This year for my birthday Dennis planned a perfect day.
It started with a party at our place in the early afternoon. Friends flowed in throughout the day and we chatted, played games, drank, and ate an absurd amount of snacks. Around 3pm a few of us ventured out to Columbia Heights Day, a neighborhood festival 2 blocks up 11th Street.
Dennis picked up pizza at 5:30, which was quickly devoured, and shortly after that everyone sang Happy Birthday while I blew out the candles on my carrot cake.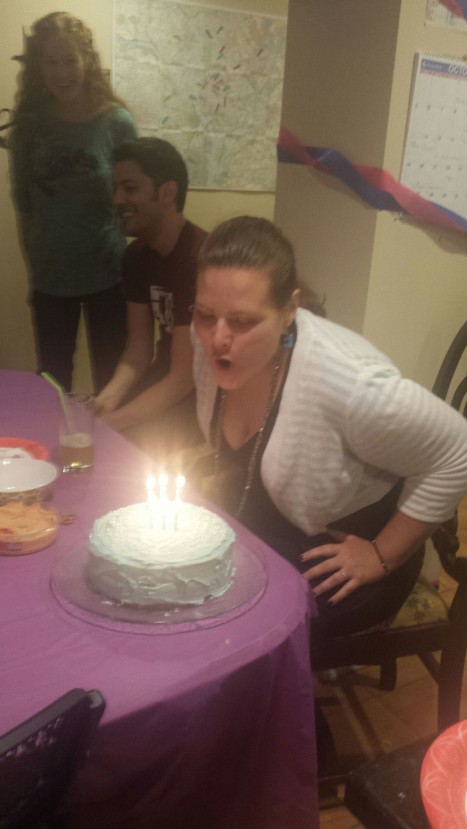 At 7PM a group of us piled into the jet black Chevy Tahoe that Dennis had rented for our trip to the farm. We brought with us a cooler full of beer and the ingredients for s'mores, and I had a sippy cup full of my mom's famous champagne punch (plus a refill in the cooler).
The drive took just over an hour and it was worth it. We arrived at Lawyers Farm and met up with Ruth and Twan before venturing into the corn maze.
I was in high school when I discovered my first corn maze and I have loved them ever since. They are a great, inexpensive way to spend time with friends, while pursuing a common goal. I love the silliness of intentionally getting lost in a field of corn and the excitement that comes when you finally make it to the end. I am also incredibly fond of haunted mazes. It's probably annoying for people who go through them with me, but I love embracing the fear, and screaming in mock (or sometimes real) terror when something jumps out at you in the darkness.
So Dennis did well when he planned this outing and he chose a very interesting maze. Every corn maze I have experienced has had one entrance and one exit. You spend 45-90 minutes wandering through the corn, hoping to eventually stumble upon the one correct path.
This maze, though, had a completely different set up. The entrance was the exit, with various paths branching off into the field. The object was not to follow one path, but to follow many paths in hopes of reaching various checkpoints. It was a self-guided scavenger hunt that could be as long or as short as you wished.
Initially, we did not realize the mechanics of this particular maze and marched in sans plans.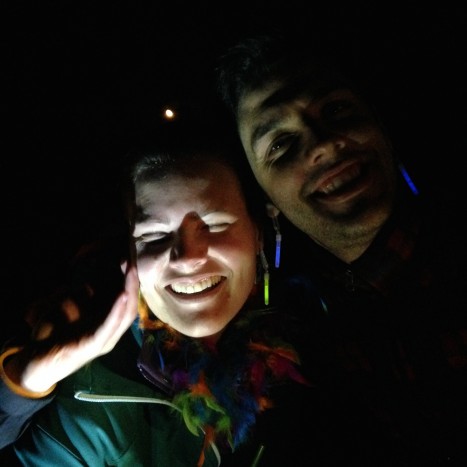 Twenty minutes in, after accidentally discovering a checkpoint, we realized we could wander aimlessly through the corn or we could give our journey meaning by establishing a goal. We arbitrarily decided we would find checkpoint 13. Once we reached 13 we would consider ourselves victors and retreat to the bonfire for s'mores.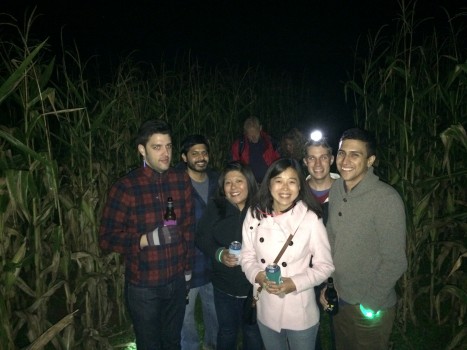 Liberally referring to the map we had been handed when we arrived, we worked our way toward checkpoint 13, occasionally asking other patrons if they knew where they were or could point us in the right direction. The maze was very dark, most of us had been drinking, and, as I'm sure is obvious, every pathway looks exactly the same.
It turns out that when we had selected checkpoint 13 as our target (based on our location at the time and our desire to become victors quickly) we had actually had absolutely no idea where we were in the maze. We once again found a checkpoint completely by accident, oriented ourselves (somewhat), and changed our goal. Checkpoint 18 was our new target. Onward!
With Anish in the lead, we made our way and found our goal.
Now we could warm ourselves by the bonfire and eat our s'mores.
Outside the maze we made our way to the bonfire Dennis had reserved. We each pulled up a hay bale, toasted a marshmallow, refilled our drinks, and settled in to warm up. It was perfect.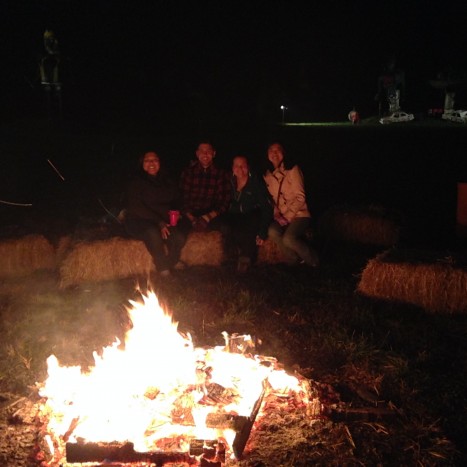 Drew, Anish, and Dennis decided to head back into the maze to tackle the deeper corners and reach the furthest checkpoint, while the rest of us sat by the fire and talked. Around midnight they returned, victorious.
With the farm closing down for the night, we piled back into the Tahoe and headed back to the District. But first we had to stop for Taco Bell.
Dennis and I crawled into bed around 2AM on the morning of my birthday. It was a truly perfect day and I'm grateful to everyone who joined us and made my birthday so memorable!