Sunday
On Sunday, August 17, Dennis and I flew from Baltimore, MD, to Traverse City, Michigan, by way of Newark.
We arrived at the tiny airport in Traverse City in the late afternoon where Drew picked us up and we drove about 45 minutes to Crystal Lake, which is just a few minutes from Frankfort, Michigan.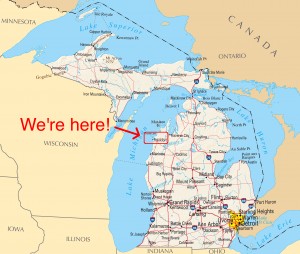 When we arrived at the lake we were blown away by its size, beauty, and the clarity of the water.
We spent big chunks of our days putzing around the lake house, doing absolutely nothing, and it was wonderful. The lake house was built in the 1920's and bought by Drew's grandparents in the 70's. The original house had 3 bedrooms and 1.1 bathrooms but they built an addition in the 90's. There are now the original 3 bedrooms, a new master suite, and a "dorm" with a half bath. The dorm is a huge room with 4 single beds and a double bed, perfect for the grandkids as they were growing up.
---
 Monday
Monday was Drew's birthday, which was very low key. We mostly just relaxed at the house, reading and chatting.
At one point Marty, Drew's mom, took me on a little tour of the tiny town of Frankfort and I saw Lake Michigan for the first time. I had never seen a great lake and it did indeed live up to its reputation.
---
 Tuesday
On Tuesday we ventured out onto Crystal Lake in kayaks and Drew and I swam. Dennis thought the water was too cold for swimming, but after the initial shock it was actually really great.
After drying off we grilled some burgers in the driveway.
After dinner we went to Lake Michigan in search of a sunset, but it was too cloudy.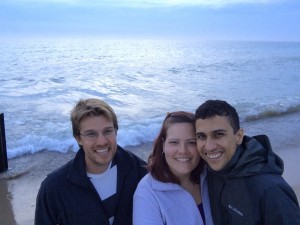 Back at the house we played the board game Dennis and I bought for Drew for his birthday. It's called Power Grid and it says it takes "2+ hours" to play, and it seemed a little complicated at first. Once we got the hang of it, though, we all really enjoyed it.
Regardless of our enjoyment, we went to bed in the middle of the game and had to finish playing in the morning.
---
 Wednesday
On Wednesday, after finishing Power Grid (Dennis won) and relaxing around the house, Marty drove us into Frankfort where we walked around and stopped by Gwen Frostic, an art studio famous for block prints. Marty then dropped us off in town to grab some food and beers at the new brewery, Stormcloud. The food was surprisingly good and the boys enjoyed the beer, too.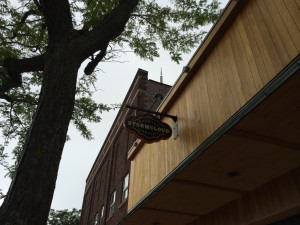 We then walked a block and a half to the Lake Michigan shore, which is just like an ocean beach, but with smaller waves. We walked out along the breakwater, to the little lighthouse, took a bunch of selfies, and headed back to shore.
It was a beautiful evening.
Back at the house we all awaited the arrival of Drew's girlfriend, Jess, and his younger brother Eric, who were both due to arrive in Traverse City at 10:30PM. We soon learned, however, that Jess' flight out of BWI had been delayed and she wasn't going to make the connection in Detroit, despite Eric's best efforts to delay the plane.
Drew drove out to pick up Eric but poor Jess had to spend the night trying to sleep on the floor of the airport in Detroit. The next available flight wouldn't depart until 8AM.
---
 Thursday
Thursday was a very busy day. By the time I got out of bed, things were already in motion. Drew had departed to pick up Jess from the airport and Eric had made breakfast for everyone. Shortly after eating, Drew and Jess arrived and Drew almost immediately took off with Eric to pick up the ski boat he had rented for the day. Originally the boat was going to be a surprise for Jess for her birthday (she has always wanted to learn to water ski) but the surprise was foiled by her delayed flights.
Once the boat arrived at the dock in front of the house, we all put on our swimsuits and headed out on the lake.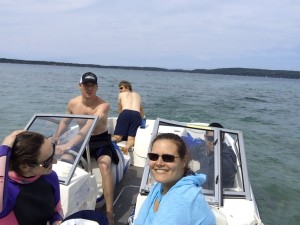 Jess was the first to jump in the lake, donning a wetsuit…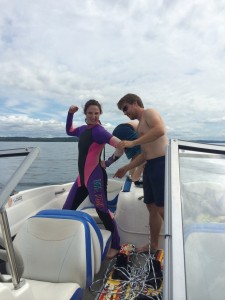 …and strapping on the little kid water skis.
It took a few (or more) false starts but eventually Jess was able to stand up on the skis and after that she made it seem pretty easy. She couldn't stop smiling the entire time.
Drew was up next. He had only attempted water skiing once before, when he was fairly young, and he'd never been able to stay up, but he picked it up quickly this time and by the end of the day he was able to drop a ski!
I gave it a shot, too, but I didn't have any success. I probably tried at least 10 times but I just couldn't get my feet under me. I look forward to trying again sometime, though.
Eventually we stopped back at the house for a brief lunch break, before heading back out again. There was more water skiing and then we broke out the inner tube. Dennis and I had a great time on the inner tube, which takes considerably less effort!
We had the boat from 10AM – 6PM and when the time came to return the boat I think we were all happily exhausted and ready for hot showers and pajamas.
We returned the boat and stopped by a u-pick raspberry farm but the season is over so the pickings were slim.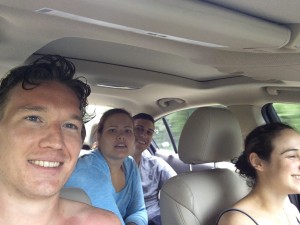 Back at the house we sat around and chatted while people rotated through the shower. Eric grilled bratwursts for dinner and we all finally made it to bed around 11.
---
 Friday
We didn't have any plans for Friday, which was evident by the laziness of the morning. Eventually, Marty, Drew, Jess, and I walked from the lake house to Lake Michigan, about 2 miles away.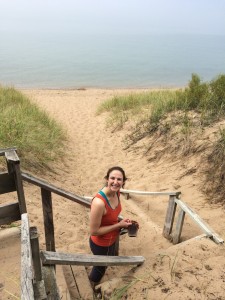 It was a hazy day but we were on a mission. We wanted to find a Petoskey stone.
Petoskey stones are fragments of a 400 million year old coral reef. Over the course of time, sheets of ice from nearby glaciers broke off pieces of the coral, grinding down the rough edges and depositing the rounded pieces, now resembling stones, throughout Michigan's lower peninsula. When dry, the stones are often indistinguishable from common rocks.
Sorry for the small image but as you can see, once the rocks are wet, the coral pattern becomes more visible. Because of this, we focused our search where the tide had dampened the rocks, hunting for thin white lines on small grey stones.
To be honest, the search was a bit frustrating. I wasn't sure what I was looking for or if there was any chance I'd find one. In recent years, Petoskey stones have become very popular and the beaches tend to be thoroughly picked over by jewelers, crafters, and tourists. I think we were looking for at least a half an hour by the time Jess gave an excited little shrill. And then, not 30 seconds later, she found another.
With two small Petoskey stones in hand, Jess was elated and seemingly more inspired to hunt. I, however, was a little down trodden.
And then, out of nowhere, I turned around, looked down, and BOOM, there was a big Petoskey stone staring up at me. I couldn't believe it. And, of course, I forgot to take a picture of it. I tucked the stone into my pocket with a smile on my face.
We continued looking as we walked back along the beach but we didn't find any other stones. Jess did find a rather large fossil of some sort, though, which was pretty cool. I don't remember what it was called, though.
That afternoon we went into Frankfort to see a jeweler I had read about in the paper. The problem with Petoskey stones when you find one is that they really don't look all that great once they are dried off and sitting on your shelf. You can hardly tell there is anything significant about them. Polished stones, though, are very unique.
I brought my rock in to the jeweler and while he didn't seem terribly impressed with my find, he agreed to cut and polish my stone and make it into a pendant. This is the back of my stone, dry and unpolished:
The jeweler cut my stone in half and this is the inside, also dry and unpolished:
And, finally, my polished Petoskey stone pendant: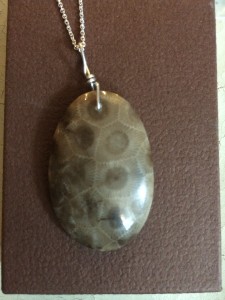 I love it. I love that it is a 400 million year old piece of coral that I found during my trip. How cool is that? I should probably include a plug for the jeweler, who did a good job, despite some mild grumpiness. We went to "Sunbeams of Promise, Petoskey Stone Jewelry Studio" in downtown Frankfort.
Although our day was supposed to be lazy, I felt pretty productive. Back at the house we went for a swim in the lake and laid out in the sun. It was a wonderful day.
---
Saturday
My alarm went off at 7AM as we needed to be on the road for Mackinaw City by 7:30. We stopped quickly for coffee before embarking on a 3-hour drive north. If you scroll back up to the Michigan map at the beginning of this post you can see that we were headed to the very tip of the "glove" of Michigan, right where the middle finger would be. Our goal was to catch a ferry to Mackinac Island and spend the day touring about.
Mackinac Island is fascinating. It's a 3.8 square mile island in Lake Huron that has been designated a National Historic Landmark. Motor vehicles have been banned on the island (with the exception of snowmobiles in the winter) and the residents and tourists get around primarily on bicycles and horses.
At 10:45AM we arrived at the dock for the ferry and purchased our tickets ($18 per person).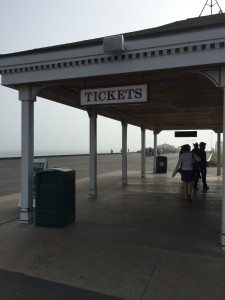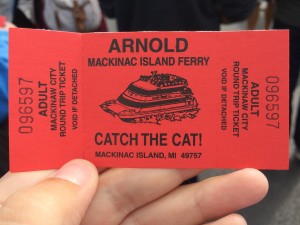 Once aboard the ferry we grabbed seats on the top deck and huddled together. It was a very grey and cold morning.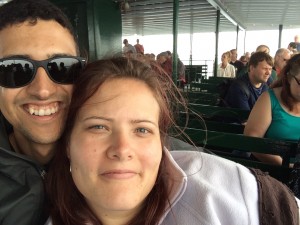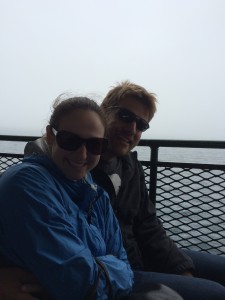 After a 60-minute ferry ride into nothingness, the island emerged. Sort of.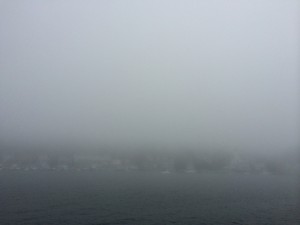 We arrived just after noon so our first stop was the local pizza joint. Jess and I each got a slice while the boys inhaled sandwiches.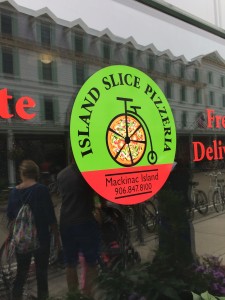 We walked around town a little, where the lack of cars was apparent (and awesome). Lots of people were riding in horse drawn carriages, which varied in size from small and romantical carriages to large wagons.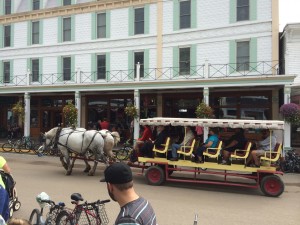 An 8-mile-long road traces the perimeter of the island and we decided to rent bikes and make the loop. Jess even convinced Drew to rent a tandem bicycle!
Which gave me fuel to convince Dennis to do the same.
Along the route we came across Arch Rock, a natural limestone arch 146 feet above the water. It was a bit of a hike up the stairs from the shoreline to the top.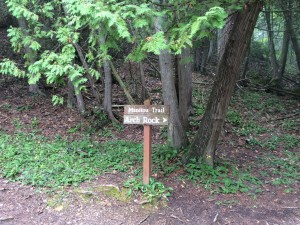 Back on our bikes, we continued our tour along the island's shoreline. I'm not sure why but there are cairns (man-made piles of rocks) all along the shoreline. Jess and I stopped to build some while the boys stayed with the bikes.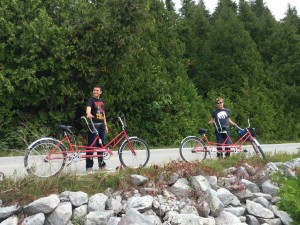 We didn't get far with our cairns, though, since every rock we picked up uncovered a spider that would scurry about frantically. Here are some erected by braver souls than us.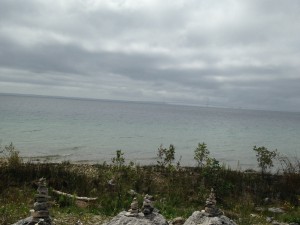 We hopped back on our bikes and continued our leisurely bike ride.
When we got back to the main town we returned our rented bicycles and headed to one of the many fudge shops. Jess and Drew bought some chunks of fudge to take back to Crystal Lake, while Dennis and I just grabbed a couple of bites.
By the time we were ready to leave the island, the clouds had drifted away.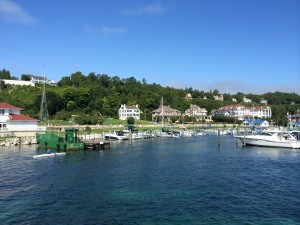 Our ferry ride back to the main land was much more scenic.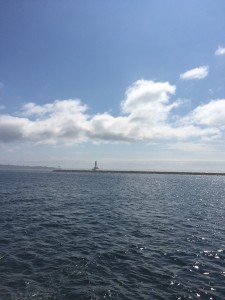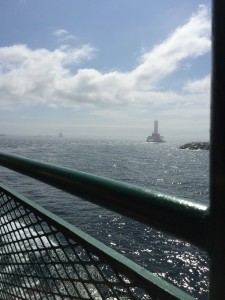 The Mackinac Bridge, in the distance, is the longest suspension bridge in the Western hemisphere and it connects Michigan's upper and lower peninsulas. From shoreline to shoreline it spans 5 miles.
During the 3-hour car ride back to Crystal Lake I had a chance to write some postcards. I love sending postcards. If you want to get on "Emily's Postcard Recipient" rotation just let me know!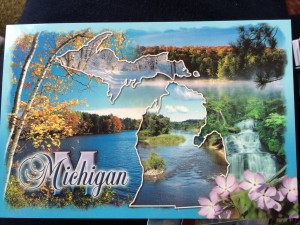 Back at the lake house, Marty and Eric had dinner ready, which included Eric's famous marinated chicken, shredded for delicious fajitas. After dinner we played Power Grid again (the first time for Jess and Eric) and crawled in to bed around midnight.
---
Sunday
Another lazy day lounging around the house. At some point we made it out to the dock to enjoy the view and Dennis and I took out the pedal boat.
As the sun began to set we noticed how clear the sky was. Most nights a light cloud cover would roll in and this was our first chance to catch a sunset. We scrambled to make it to Lake Michigan before the sun was scheduled to reach the horizon, at 8:37PM. We made it just in time.
---
Monday
Another early morning with the alarm going off at 7:30AM. We headed to the Light House Cafe in Elberta (across the bay from Frankfort), on the recommendation of Marty's family friend, Bruce. Coincidentally, we ran into Bruce at the cafe. The food was cheap and tasty.
Sleeping Bear Dunes are about 45 minutes from Crystal Lake and this was our day to check them out. We drove the scenic route, occasionally taking in a view point or two.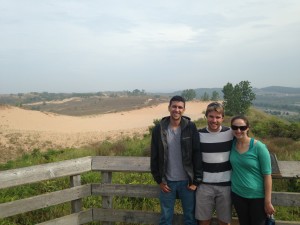 One of the stops was a sand dune so high and steep they had a warning sign when you arrived: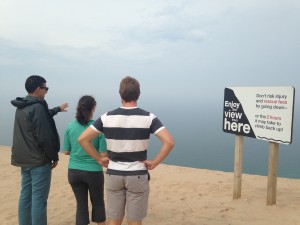 Looking over the edge, we quickly understood why.
Despite the warning, many people had run to the bottom. While the journey down took less than a minute, the climb back up took hours. Literally. Every step upward included a few inches sliding backward in the sand. I did not envy them the climb.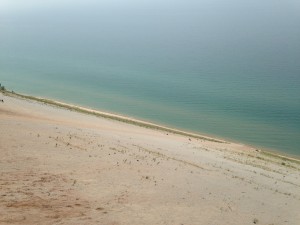 I know it's hard to see but those little specs are people, climbing back up the dune.
We headed back to the car and Drew mapped our course.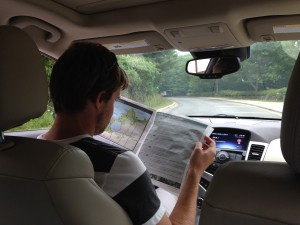 Next stop: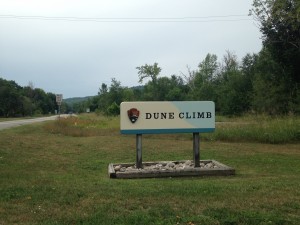 The touristy dune climb was much tamer than the one we had just seen, but fun nonetheless.
We never seemed to reach the top. Every time I thought we had summited, there was another mound of sand in the distance that would take us higher still. Fortunately, we knew from Drew's previous visits that climbing higher still would be fruitless as the views of Lake Michigan were a couple miles from us. It's funny how tempting it is to keep climbing though, just to see what's on the other side.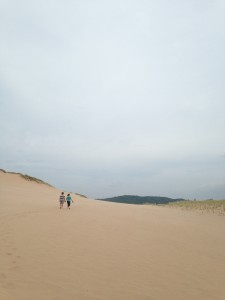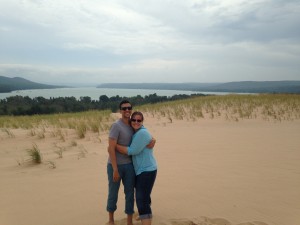 We then ran full speed down the sand dune, which feels just like flying. Drew was so fast, in fact, that strangers looked on in awe and commented as he flew past them.
Our next stop was also recommended by Bruce and it was the Cherry Republic in Glen Arbor.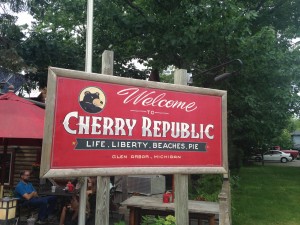 None of us were sure what to expect from the Cherry Republic and as a result we were very pleasantly surprised. There are three cabins on the property. One is a cafe,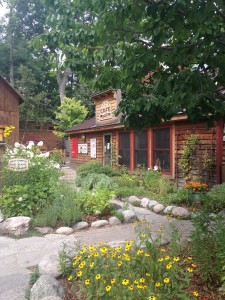 one is a shop,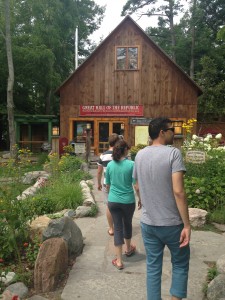 and the other is a tasting room.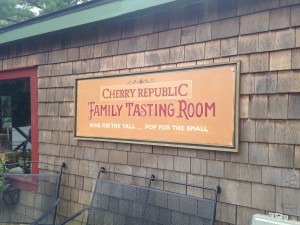 We headed into the shop first where we found EVERYTHING cherry. There were samples, too! They have cherry jams and preserves (of course), cherry salsa, barbecue sauce, candies, butter, candles.. you name it, they have it. We filled up on samples and bought some items for our families before heading to the tasting room.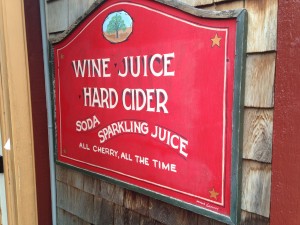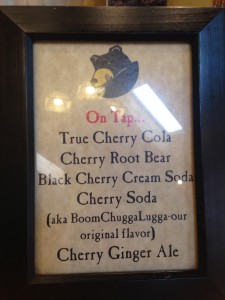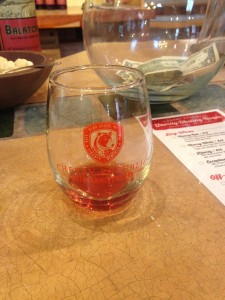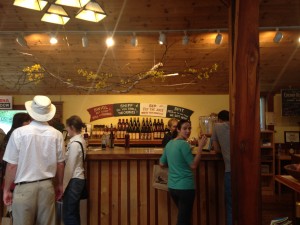 I'm not a big wine drinker but it was fun to taste the different kinds and we picked up a bottle for Marty as a thank you. Dennis also bought a few different flavors of cherry soda.
Out back they had a small play area for kids, which meant us, of course.
It was a fun trip, but we had to head back to Crystal Lake to start packing our things.
Back at the lake house we packed, did some cleaning, and stowed away the kayaks, pedal boat, and deck chairs.
We headed in to town to pick up my Petoskey stone pendant that we had dropped off on Friday and to swing by the Stormcloud brewery for beers and snacks.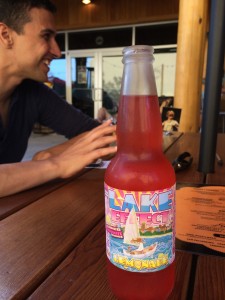 Later we watched the sun set from the dock, taking in all the serenity we could on our last night, before heading in to play a round of Dominion before bed.
---
Tuesday
Another early alarm day- 6:30AM. We had taken care of most things the night before so we were on the road by 7:30AM. Crystal Lake, Michigan to Washington, DC is a 12-hour drive and we were doing it in one fell swoop.
We made it to DC just after 8PM. We walked in the door, fed the cats, unpacked, and promptly went to bed. Harvey has never been so happy to see us. It was a nice welcoming home.
Thanks for an incredible 9 days in Michigan, Marty and Drew! We had a truly wonderful time and hope to repay your hospitality with a lake house of our own someday!