Friday morning (wedding day!) I woke up beside my best friend, Christy, who immediately jumped into action. Seriously, she was a rockstar all day. Most of the day is a blur to me, looking back, but one constant was Christy, carrying my train, carrying my shoes, getting me where I needed to be, and offering to help at every turn. Adie, my dear childhood friend, was also immensely helpful making the day go off without a hitch. Thank you, Christy and Adie!
Christy and I woke up at my parents' beach house and quickly packed up our things before grabbing Uncle Matthew and heading to a coffee place in Nye Beach.
Uncle Matthew is only 10 years older than me and has always been more like an older brother than an uncle. In fact, he has been so important in both my and Dennis' lives, that we asked him to be our wedding officiant. We love Uncle Matthew dearly and were so thrilled that he accepted! He became ordained online just for us!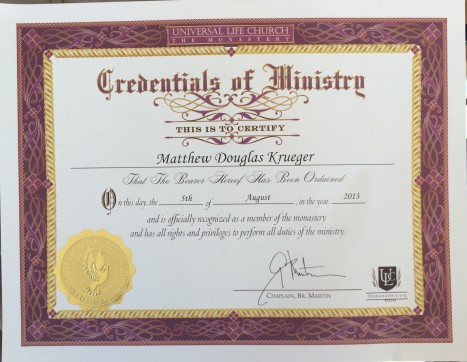 Armed with coffee we headed to the beach house Dennis and I had rented with some friends in north Newport.
Although I had stayed with my family the night before the wedding, Dennis and a bunch of our friends had stayed at the house. When Christy, Matthew, and I arrived, many people were already up, scrounging for breakfast.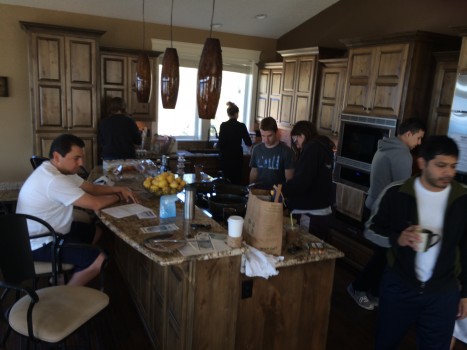 I had gotten Dennis a pastry from the coffee place, which I took down to him for breakfast in bed. I was amused to learn he had spent the night before our wedding sleeping with our friend Shawn. It seemed oddly appropriate, given our Peace Corps history of sharing beds with Shawn (love you, Shawnito!).
The morning was surprisingly calm. I spent time with friends, enjoying the view with my cup of coffee. It was perfect.
At 1PM the photographer, Kyle Carnes of Fritz Photo, arrived and it was time to start getting ready. Dennis was relegated to the second floor with his friends while my mom and bridesmaids helped me prepare in the master suite.
I love my wedding dress. I'm not a dress person in general but I felt wonderful in it. And my mom made me an adorable little shrug to wear with it. My mom is the best!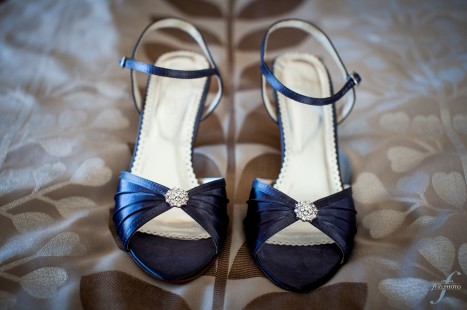 I also love my shoes. I'm not sure I'll ever have another reason to wear them but I think the purple is so beautiful.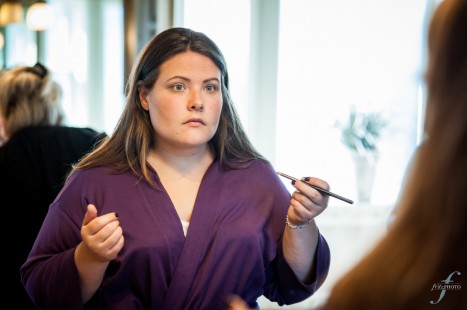 I went to MAC Cosmetics in NW Portland for a lesson on applying make-up since I never wear it. The woman at MAC was very helpful and informative but I promptly forgot most of what she told me. I relied heavily on my mom and Adie!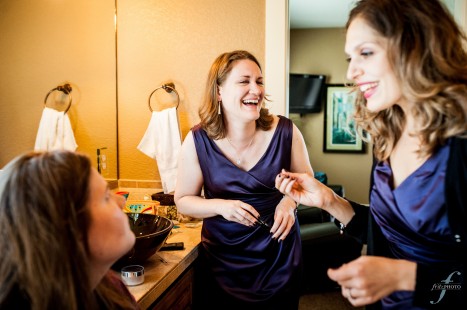 We were still working our way through hair and make-up when Kyle headed upstairs to check on the progress of the men. Dennis was hanging out in the main room with everyone, relaxing.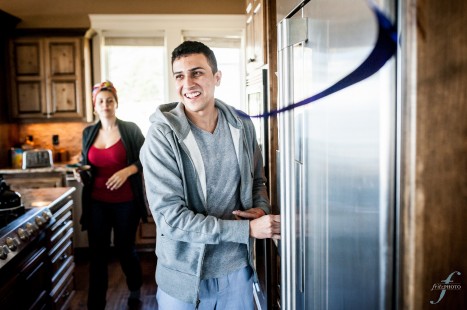 I can't explain why, exactly, I love this photo, but there's something about it.
Shortly after, the men started getting dressed.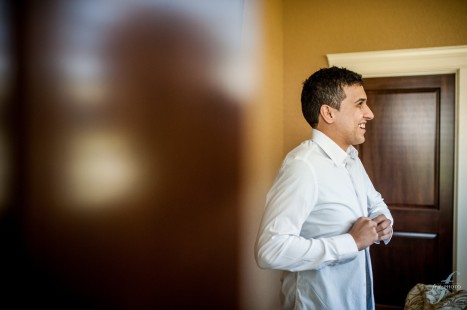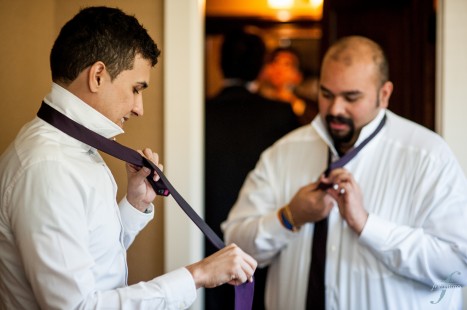 Once the gentleman were all shiny and ready, Kyle returned to the master suite, just as I was slipping into my dress.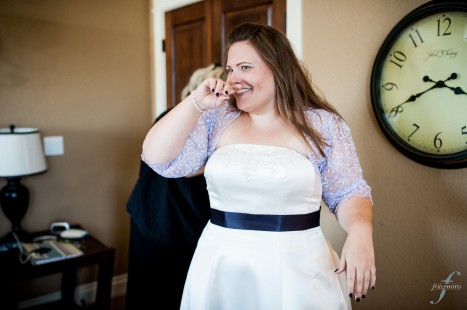 It wasn't until that moment, with my dress on, my mom beside me, and my beautiful bridesmaids in front of me, that it finally hit me – I'm getting married today!
I almost started to cry. So, naturally, Christy almost started to cry. Thankfully we were able to avoid looking at each other long enough to get ourselves together. It was too early in the day to be testing the waterproof mascara!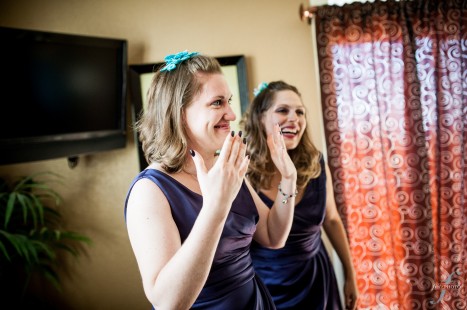 I still had one last thing to put on – the veil. Adie had lent me her veil to wear, which was very sweet of her. She had forgotten to put it on before her ceremony, so this was the first time it would make a trip down the aisle.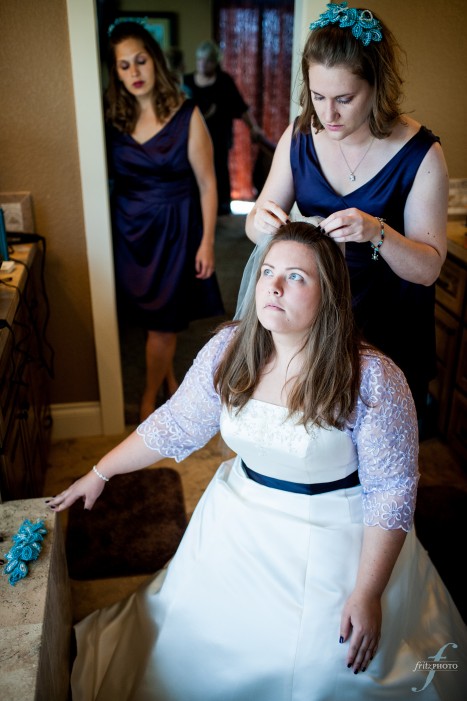 With the veil on, make-up and hair perfected, it was time for the grand reveal. On to "The Wedding: Part 2"!