Okay, so I'm using the term "renovation" very loosely. While it generally means "to restore to an earlier condition, as by repairing or remodeling" and is usually reserved for structures, I am going with the "to impart new vigor or revive" definition, and applying it to whatever I want, structural or not.
To be honest, I have this grandiose vision of "renovating" all kinds of things over the next few years and outlining the process on this blog (in addition to all the other random posts we put here). I'm inspired, in large part, by all things HGTV. The HGTV Magazine, the shows Renovation Raiders, Property Brothers, and Flea Market Flip, and blogs I've seen from other men and women who will likely put my posts to shame.
Most likely I won't be accomplishing much until we move out of our tiny apartment but, in the mean time, I will content myself with little projects, like my two new stools. Our apartment is pretty tiny and we have very limited seating. Since there are usually only two of us (and the cat), this isn't normally an issue. Except, of course, when it's game night. I am obsessed with playing board games and I love having people over to play. Inevitably, though, people always end up sitting on the floor or trying to squeeze onto makeshift chairs at the dining table.
Last week I decided enough was enough and I got two of these little stools from Target for $20.
I love the lime green base but the navy blue cushion is a little too dark for me. I'm addicted to bright colors in the living room and knew I would need to change the cushion right away.
Step 1: Unscrew the base
When I purchased the stools I made sure this would be easy. For my first project I didn't want anything too complicated.
Step 2: Remove all the staples
Dennis and Harvey (the cat) helped with this task. It was… unpleasant. Those heavy duty staples were really in there! And there were a LOT of them.
Step 3: Cut the new fabric and fold it over the cushion's guts
I didn't really measure, though maybe I should have. I just eye-balled it and cut the fabric. I tried to line the fabric pattern up so it would come out straight, but I think it would have looked fine if I hadn't done that, too. The fabric, by the way, is upholstery fabric from Joann's. It was on sale. I got 1 yard (more than enough) for $6.
Step 4: Staple, staple, staple!
Shortly into this step I ran out of staples and the project had to be put on hold. Thankfully, the hardware store a block away had the exact staples I needed!
Step 5: Watch the corners
Corners are tricky. The original cushion covers I took off of the stools were custom made and fit like a glove. I couldn't replicate that, so I just tried to fold neatly and pull tautly. Dennis helped with holding it tight while I stapled (Harvey had lost interest long ago).
Step 6: Reattach the original black backing
This step was nice and easy. Starting to see the finished product!
Step 7: Screw the base back on and…
Step 8: Admire my new stools!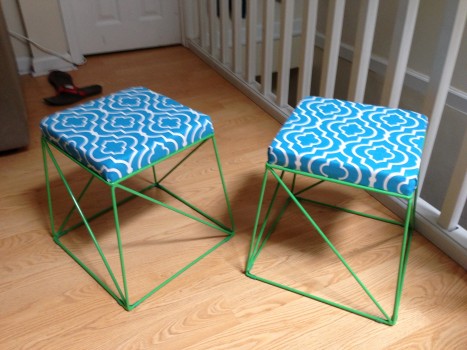 This project was so easy! I'm glad I started with something simple since often times I have great ideas for things but never end up doing it because it seems so daunting. Now I want to reupholster more things!