I am so happy to be living back in Washington, D.C.! It is wonderful to be walking distance to friends again. Every morning I bike to work (only 2.5 miles) and walk home. It's much nicer than 45 minutes on the bus and metro twice a day.
On September 1 we moved back to the northwest neighborhood known as Mt. Pleasant. Since the 1960's Mt. Pleasant has been a predominately Latino neighborhood and has a wonderful small-community feel to it. Every Saturday morning there is a farmers market with fresh produce a stone's throw from our front door.
On Friday evenings they play movies (like the Princess Bride!) in the little square on a portable projection screen. There are tons of little shops and restaurants, and a dive bar or two, as well. I just love it!
Our new apartment, on the other hand, has been a little harder to fall in love with. Mt. Pleasant consists mostly of row-houses, many of which have been subdivided into apartments.
One-bedroom apartments, in our price range, are hard to find. Most are either exorbitantly priced ($1800 – $2200 per month) or are dark basements with little natural light. The first time we saw our future apartment, on the top floor, we wanted it immediately. Having just viewed three dark English basements with low ceilings, I think we were captivated by the skylight, high ceilings, and "all utilities included." We conveniently overlooked the uneven floors, funky smell, and awkward layout. The price was right and there was light!
After we signed the lease and moved in, we discovered even more issues. First, the hallway and staircase to our converted attic are very narrow. We couldn't fit our couch, our dining table, or our queen box spring, all of which went promptly onto craigslist. The larger issue, however, was the incredible cockroach infestation.
Dennis and I both served in the Peace Corps in a tropical environment. We are no strangers to various and plentiful bugs, but this was absurd. They were everywhere, all the time, including in the bed. Thankfully the cockroaches here are much smaller than their Panamanian counterparts. I've included some lovely photos for you, in case you have not had the pleasure.
One of the motivating factors in getting a kitten, in fact, was to have a pest hunter in the house. Harvey is quite talented in that area and between him and the diligence of our landlord, I have actually only seen one cockroach in the past week, which is amazing progress. I know they are still there, but at least there are fewer of them.
The next challenge to overcome was the awkward layout and our new lack of furniture. I must pat myself on the back for my craigslist prowess not only in selling our old stuff, but also in finding things that would fit in the new space, and for cheap. (We have a wedding to save for, you know!) So, without further ado, photos of the new apartment!

When you first walk into our apartment you enter at the foot of the stairs (on the far right in the photo). The panorama feature on the iPhone obviously distorts the shape a bit, so just imagine the space as long and narrow. On the far left are the washer and dryer, and a small half bath for guests. On the right, just to the left of the staircase, is the door to the bedroom.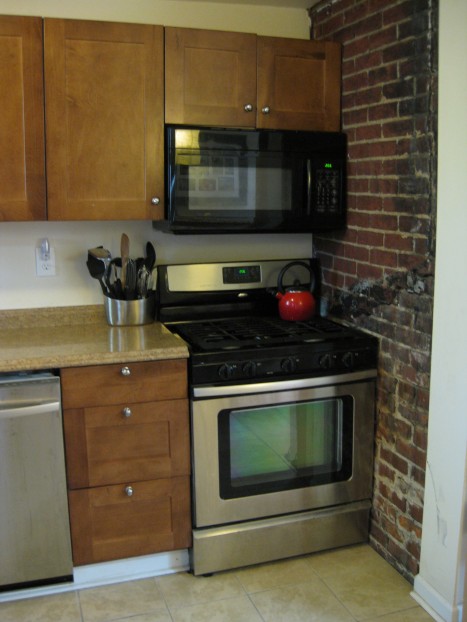 The kitchen has a lot more counter space than our previous apartment, and a decent amount of cupboards and drawers. We also have a 5-burner gas stove (awesome!) and a cool little section of exposed brick.

The view from the bedroom.

The view from the same spot, but looking the other way, into the bedroom. It's a decent size space with enough room for a queen size bed and our two desks. There is a small closet to the immediate right that we use for coats and such. In the distance is a little alcove that we use as a walk-in closet.

Alternate view of the bedroom. We have an attached full bathroom with a nice tile shower (that takes awhile to get hot).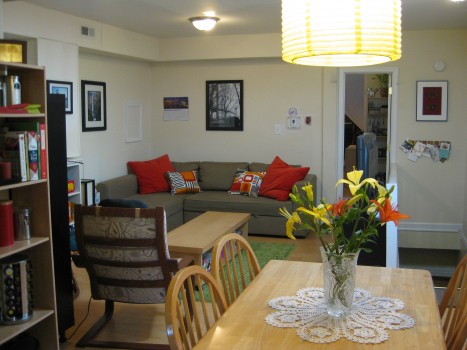 I really like this photo of the living room because it highlights the new couch cushions my mom got us for my birthday. I love the pop of color. Thanks, Mom! Also, our awesome IKEA couch from craigslist. It folds out into a bed. It's so easy, we pop it out just to watch a movie. I love that little couch. Apparently I'm not the only one, either. Check out this video of love dedicated to the IKEA Manstad.
Anyway, that is our new apartment. Most of our friends and family live pretty far away but we wanted you to see where we're living. And if/when you do get a chance to visit, you can give our couch a try! Also, we promise to have the cockroach problem under control by then. Harvey has been working overtime!
Bonus photo – Harvey and Dennis watching TV: